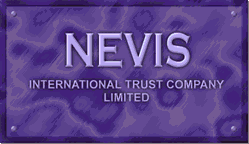 NEVIS INTERNATIONAL TRUST COMPANY, LTD.
Nevis International Trust Company, LTD. is one of a select few companies licensed by the government of Nevis to provide trust, corporate and financial services. The principals of the company and its advisors have extensive knowledge of all types of offshore services. The company is supported by a network of experts in the United States and the Caribbean including US tax and corporate attorneys, expert trust administrators and local Nevis attorneys and CPA's.
Individuals or companies wishing to use our services should obtain advice from their own professional advisors in their own jurisdictions. In support of this advice, we provide the following services:
Company Formation
Directors
Officers
Nominee Shareholders
Offshore Bank Accounts
Offshore Debit/Credit Cards
Mail, Telephone and Facsimile Forwarding
Administrative Services
Trustee and Co-Trustee Services
Trust Registration
Statutory Book and Record Maintenance
Company Redomicilation

Appropriate professional and banking references are required by Nevis International Trust Company, LTD. prior to its accepting administrative and/or fiduciary appointments. The company adheres to the due diligence standards followed in all the major offshore jurisdictions.
A Schedule of Fees for our services is available upon request.









© 1998 NEVIS INTERNATIONAL TRUST COMPANY, LTD.